Solar Screens Help Lower Energy Bills and Improve Comfort in Greater Houston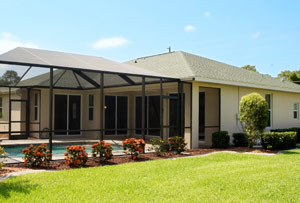 We install solar screens that keep the sun's rays out, resulting in a cooler home
Want to block the sun's heat and glare without ruining the view from your home? Solar screens help block the sun while lowering indoor temperatures and potentially saving you up to 30 percent on utility bills.
We install ASM solar screens that can block up to 90 percent of the sun's rays before it even reaches the inside of your home or office. Homeowners will enjoy reduced energy cost as well as daytime privacy while still having outward visibility. Solar screens also prevent fading of things like carpet, furniture and draperies.
Dr. Energy Saver by STX Efficiency Experts is Greater Houston's exclusive provider of custom manufactured solar screens from ASM. The screen frame is built to last and comes in several colors and sizes to improve the look of your home, patio or other enclosure while providing increased energy efficiency.
Get a more comfortable, energy efficient home today!
Contact Dr. Energy Saver by STX Efficiency Experts to learn more about solar screens and how we can help you save energy with our estimate in TX. We proudly serve Greater Houston and nearby areas like Bellaire, Houston, Katy and Pearland, Pasadena, West University, The Woodlands, Rosenberg, Lake Jackson, Richmond.